Work Permit to Permanent Residence
Canada's best business immigration pathway

We help investors come to Canada quickly on work permits, start a business and obtain permanent residence. We create a customized strategic immigration and business plan that's right for you and expertly represent you throughout the process. If you have the ability to establish a business enterprise in Canada, then we can help.
It's Fast: Quickly come to Canada with your family and start a business.
It's Easy: We quickly prepare the paperwork and submissions for you. WP2PR is easier and faster than other Canadian investor programs.
It's Affordable: No minimum or upfront investment required.
It's Flexible: No performance agreements required and you can modify your business plans when you arrive in Canada.
Read more about the advantages of WP2PR:
We're Canadian lawyers and you can trust us with your future
Expert immigration lawyer, David Rosenblatt, will develop a personalized strategic action plan that's right for you. You will work with David and a team of lawyers throughout your process. David is a Certified Specialist in Canadian Citizenship and Immigration Law by the Law Society of Ontario and has been practicing Canadian immigration law for over 30 years.
Get the answers and solutions you need
Qualified investors can schedule comprehensive 90 minute Zoom consultations with David Rosenblatt to receive personalized advice and recommendations about immigrating to Canada and establishing a suitable business. David will carefully explain the relevant rules, regulations, policies, procedures, risks, costs, timing and much more. We have answers you can rely on.
Serious about moving to Canada? Contact us using the form below to learn how WP2PR can work for you.
David and his team have a great work permit to PR program. Their team made a very good application for us and were able to get us the Work Permit within three weeks, after landing we have received solid support and advice on all matters which has been very useful to us. We strongly recommend Rosenblatt Immigration Law firm.
– Satish S
David is one of the best immigration lawyer in Canada. Extremely welcoming and professional. Will go the extra mile to help his clients. As per David's excellent advise, I applied for the Work Permit to PR programme. David's team worked tirelessly and I received my LMIA in just a month. I would highly recommend David Rosenblatt for any and all immigration matter.
– Usama Khan
Rosenblatt Immigration Law prepared a work permit application for me and I was approved in 24 hours! The lawyers and staff took time with me to understand what my goals and dreams were and they made sure my application was very strong when it was submitted. I strongly recommend Rosenblatt Immigration Law – they really care about their clients and provide excellent service. Thank you Rosenblatt Immigration Law!
– Kamal Kalsi
Rosenblatt's innovative WP2PR program is truly ingenious. I was able to buy a business, obtain a work permit and get Canadian immigration status.
– Akin Asalu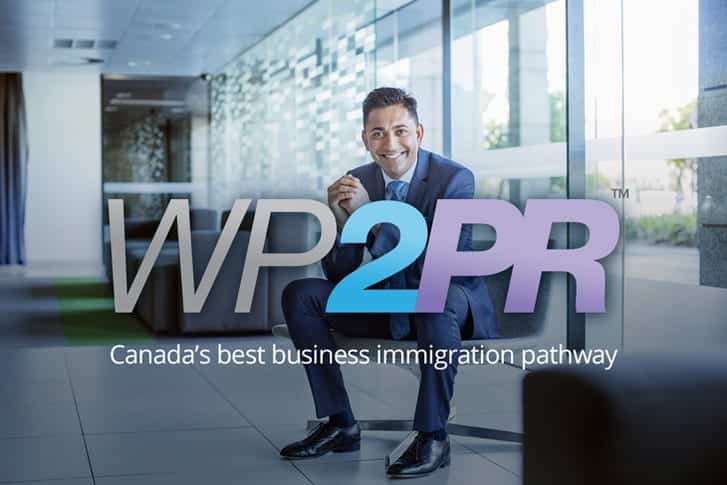 WP2PR highlights:
Get a work permit quickly
Rapidly establish a Canadian business
Obtain permanent residency quickly for the family
Spouses get open work permits
Minor children may attend Canadian schools for free
Access Canada's excellent healthcare system
No minimum net worth requirements. Please note that while there are no minimum requirements, you should be able to demonstrate the financial means to start and operate a business in Canada
No minimum investment requirements
Get the business services you need
We deliver expert advice and professional assistance with business matters. From incorporating Canadian companies, to advising on starting a business or acquiring operating companies, we can help. With our vast network of professionals, we can connect you with the experts you need. We not only bring you to Canada quickly, but we help you establish a rewarding business.
Your future is our business.
Fill out this form for a free eigibility assessment and quickly find out if you qualify.
For all other immigration matters, contact us here.